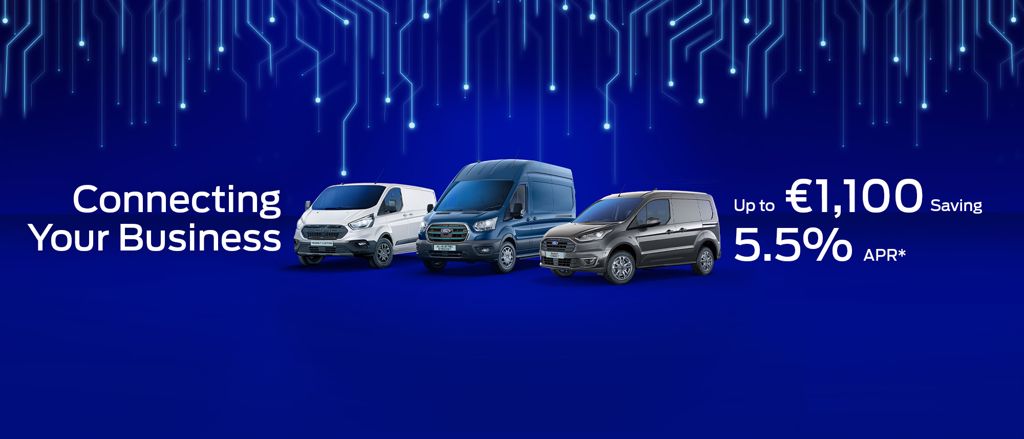 Connecting Your Business
Ford Pro™ puts everything you need in one place.
Our mission at Ford Pro™ is simple: to drive productivity and make running your commercial vehicle as easy and hassle-free as possible.
Connectivity is at the heart of Ford Pro and is the driver behind all our products and services.
Embedded modems in our new commercial vehicles extract key data helping you to get the most from your vehicle, without need for additional hardware.
This data then seamlessly integrates into other elements of the ford pro ecosystem, including FordLiive, Ford Pro Telematics and Ford Pro Charging software.
All helping to increase vehicle uptime and maximise productivity for your business.
Find out more about Ford Pro™ here.
What's more, until 30th September 2023, you can finance selected new Ford Commercial Vehicles on Ford Hire Purchase with 5.5% APR*. In addition, you may be eligible for up to a €1,100 Upgrade Saving subject to the criteria~. More savings are available on selected models across our CV range.
Our Connecting Your Business promotion is available on selected vehicles across the range, including the versatile Transit Custom Limited, the All-Electrified E-Transit and the Transit Connect Limited, with its trademark Ford Transit toughness.
To find out more contact us using the Request a Contact form and one of our team will be in touch.