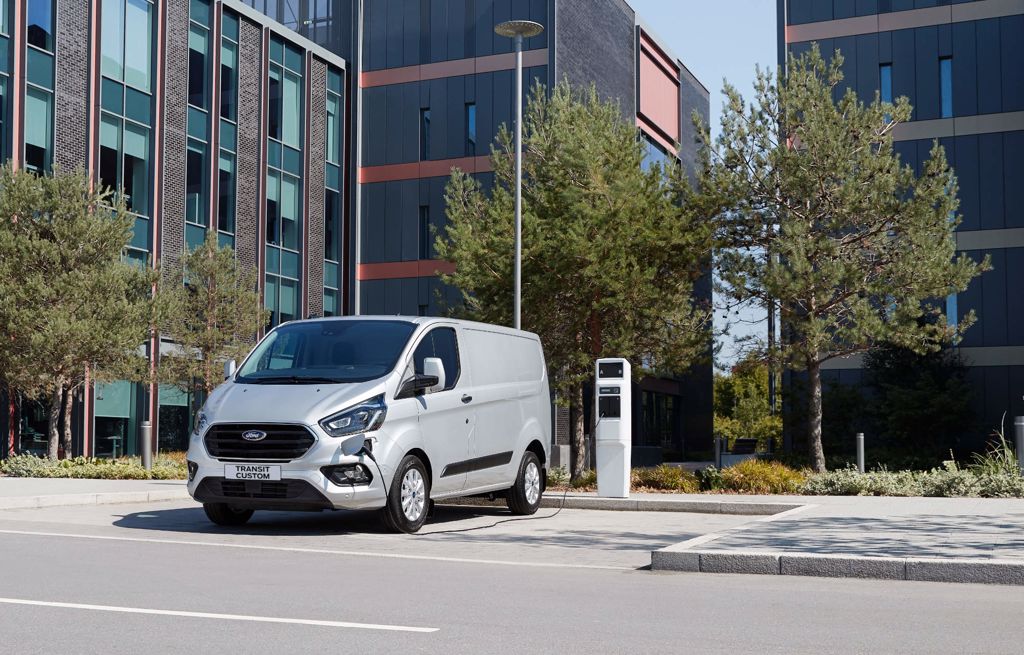 Ford's Commitment to Charging in Europe
Ford is committed to being a leader in providing our customers with a broad choice of electrified vehicles with easy access to Charging across Europe.
Home Charging

Plugging your hybrid or electric vehicle in at home is a simple and effective way to ensure it's ready to go when you need it. Simply connect your vehicle to a standard domestic socket and leave it to charge. This isn't the fastest way to charge the battery because of the limited power availability from household sockets. However, it doesn't require the need for additional hardware and therefore represents a cost-effective and highly accessible method of recharging your Plug-in Hybrid or All-Electric vehicle.

Public & Destination Charging

Across the range of our all-electric and plug-in hybrid vehicle portfolio, we will provide public charging cables either as standard or as an accessory depending on the model that's right for you. This gives you the power to charge your Ford vehicle at any of the 100,000+ (and growing!) charge points across Europe - so you can be sure we've got you covered.
Faster Home Charging

Want to make Charging your Plug-in Hybrid or electric vehicle at home as fast as possible? A Ford Wall-Box can assist. With the help of one of our expert installation partners, we can help you arrange the installation of a higher power Ford Wall-Box at home. Ford's Wall-Boxes offer faster Charging times versus Charging via conventional plug sockets, getting your All-Electric or Plug-in Hybrid vehicle back on the road as soon as you need it.

Public & Destination Charging: IONITY

Ford is also one of the founders of one of Europe's fastest growing Charging networks: IONITY. IONITY will offer All-Electric Ford drivers market leading Charging speeds at a discounted price. In May 2019, IONITY proudly announced the opening of its 100th high powered Charging sites in Europe, marking a big step towards fulfilling the objective of opening 400 IONITY high-powered sites across Europe by the end of 2020.
Charging made easy

With the FordPass App on your phone, you'll never have to worry about whether your electric vehicle is charged or not. Simply open the FordPass app to check the state of your electric battery and whether it needs Charging before your next journey.

We're also working in partnership with NewMotion, who are building Europe's largest public Charging network. This partnership allows you, through your smartphone, to find out where the nearest public Charging points are, how to get there and how much it will cost to fully charge your Plug-in Hybrid or electric car or van. On your All-Electric Ford vehicle you can also find out which public charge points fall on your scheduled journey – meaning you can charge your electric vehicle on-the-go without compromising your current route.
IONITY: Going The Distance

The electric revolution isn't just about vehicle technology. We're also investing in the infrastructure that powers longer distance journeys. IONITY is a joint venture between Ford, BMW Group, Daimler and the Volkswagen Group. Together, we're building a reliable, high-powered fast Charging network across Europe to help you make longer journeys with less time spent Charging.
Charging the battery

You can keep your electric vehicle charged in a variety of ways, from advanced self-Charging technology to plugging into your domestic power sockets. Watch this animation for an overview about the most common ways you can make sure your car or van is charged up and ready to go when you are.



---
Imagery and information shown throughout this website may not reflect latest ROI specifications, colours may vary, options and/or accessories may be featured at additional cost and locations and vehicles used may be outside of the ROI. Ford policy is one of continuous product development. The right is reserved to change specifications, colours of the models and items illustrated and described on this website at any time.
[†]This is the recommended retail price for the model shown excludes; optional extras, promotions, delivery and dealer related charges. The above prices do not reflect the Nitrogen Oxide (NOx) Levy effective from 1st January 2020.