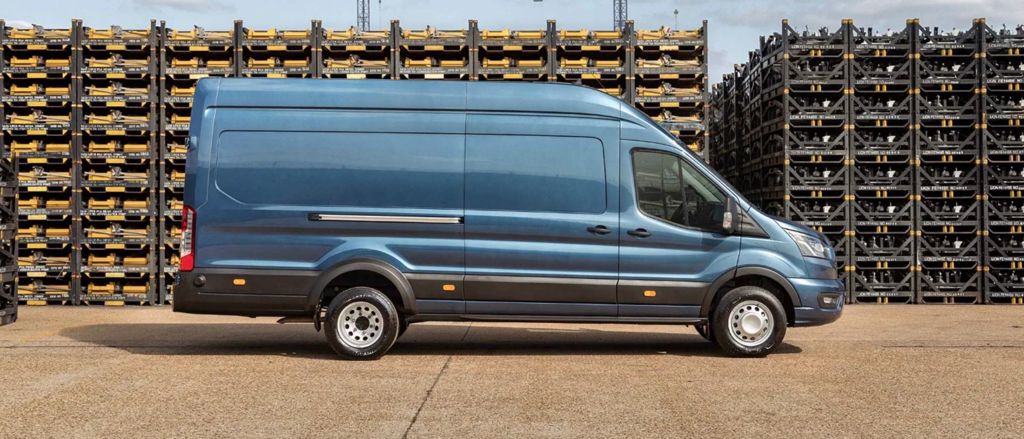 TRANSIT 5-TONNE - NO JOB TOO BIG
The Panel Van has up to a 2.4-tonne payload, the Chassis Cab an impressive 2.9 tonnes. Serious capability, for thriving business.
Our commercial vehicles are built to move all kinds of cargo, and our latest Transit variant is designed to be adaptable and hard-working.
We've enhanced the product to meet the most demanding of conditions such as uprated brakes and tougher axles. That means it's not just an even stronger version of the standard Transit van, but also the ideal basis for a bespoke conversion to support specialist customers such as the emergency services or construction and transport industries.
The new 5T GVM (payload of up to 2457kg in the van*) is offered in two body styles, two cab sizes, three wheelbases and four overall lengths. Customers can work with converters from our network of over 160 Qualified Vehicle Modifiers in 13 countries to design and build anything from simple shelving inside their van to a complete luxury bus conversion.
Want to find out more? Contact one of our Transit Sales Specialists and find out how the new 5 Tonne Transit can support your business.
Utility

The New Transit is packed with ingenious features designed to help you work smarter and more efficiently. There's 15.1 cubic metres of load space for all your cargo. And with a Power Side Load door and a 270-degree lockable rear door, accessing the load space has never been easier.

A hands-free side load door for effortless opening and closing

This ingenious system helps to make loading the New Transit more efficient. Simply pull the door handle or press a button on the key fob, and it will automatically open or close. You can also operate the side load door by pressing a button on the dashboard.

Extra Strength with 5-Tonne

The new 5-Tonne GVM (Gross Vehicle Mass) variant brings the greatest payload capacity ever to the Transit Chassis Cab, letting you efficiently carry a payload of up to 2,960 kg. This extra strength makes the 5-Tonne an ideal candidate for heavy conversions. And with all current Chassis Cab wheelbases available (L2, L3, L4, L5), it delivers the ultimate versatility for whatever you need. Tougher than ever. This new, ultra-strong Transit is ready to work.