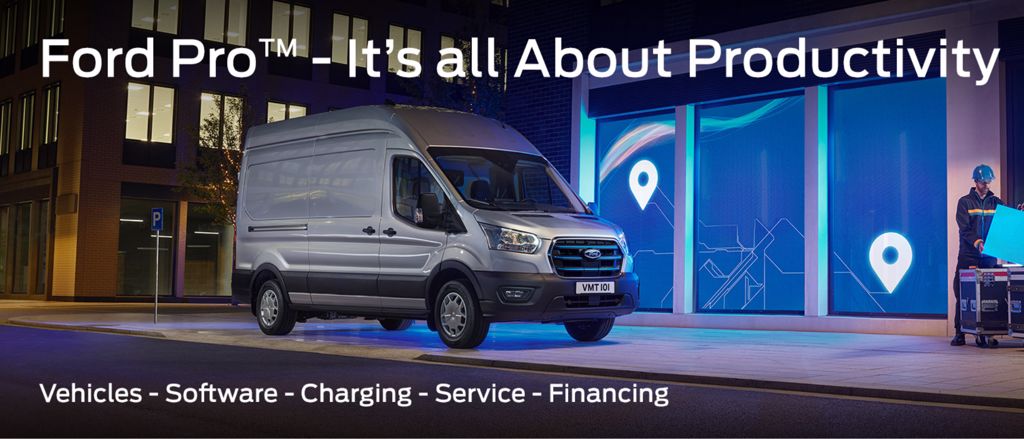 WELCOME TO SMITHS OF DROGHEDA
FORD Pro™ - It's All About Productivity
At its heart Ford Pro™ is a one-stop-shop. Behind the scenes, multiple facets are working together to drive everything.
Our mission is simple. We're here to make running your commercial vehicles as easy and hassle-free as possible - from finding you the right vehicles, to a host of intelligent fleet management software, vehicle maintenance, and financing services. All seamlessly connected. All helping to increase vehicle uptime and maximise productivity for your business.
Ford Pro™ Vehicles
Whether it's an all-electric, petrol, diesel, or hybrid model, our experts are on hand to help guide you to the ideal vehicle specification for you. And if you need something a little more bespoke, we can advise you through each step of the vehicle conversion process too.
Important Information
†Ford Pro™ Finance - Automotive financial products and services are provided in association with external finance providers under various brands, including Ford Credit* and Ford Lease**.
Actual products and services may vary due to ongoing product development and market availability and requirements. Ford Pro Finance will provide a financing solution for commercial customers; the availability of specific products, services and launch dates may vary by market.
*Bank of Ireland trading as Ford Credit. The FORD and FORD CREDIT trademarks are owned by Ford Motor Company and its affiliates are used under license.
**The Ford Lease provider is Merrion Fleet Management Limited trading as Ford Lease. Merrion Fleet Management Limited also trading as ALD Automotive is registered in Ireland No. 317799.