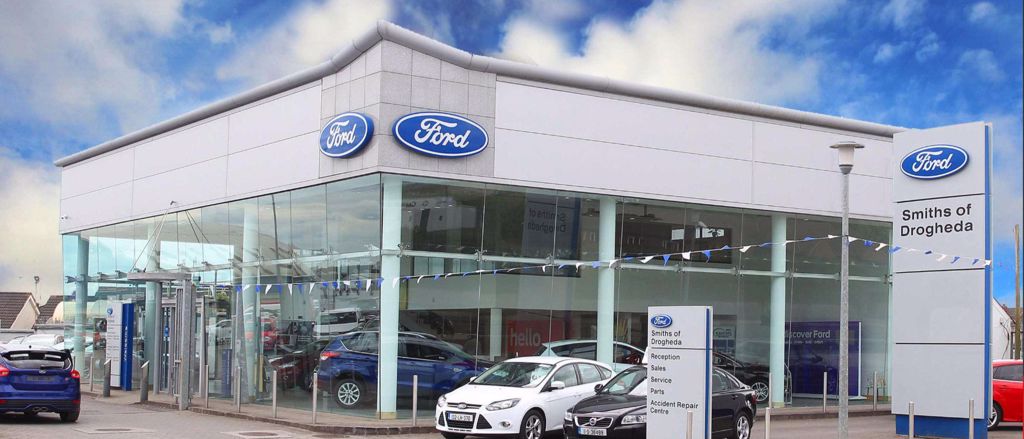 Testimonials
Welcome to Smiths of Drogheda
Newest Top Reviews
Sales
"Great support and great service. We bought a G Max here and we found the manager outstanding. The car is great and we are very pleased with it."
- Eamon R.
"Very helpful staff very happy with the service "
- Colin K.
"Iconic family business. Great team to work with. "
- Michael B.
"Fantastic company to deal with great customer service nothing ever to much trouble "
- Giles B.

Service
"Fantastic customer service from all at Smiths of Drogheda! Special thank you to Alex who made the process so easy and was very helpful. If considering new wheels, would definitely give them a shout!"
- Caoimhe E.
"Very happy with the professional service and made very welcome thanks and regards Ollie "
- Ollie W.
"Best Ford garage in Ireland "
- Declan K.
"Car in for a call-back. Job was done in the time specified and the car washed. Brilliant. Staff great. "
- Pat H.

Read some past top reviews
Mr McCabe

Excellent service from Smiths.

Mr Coyle

All 110%

Mrs Hardy

I found the minute I walked into N. Smith & Sons that the Sales person read exactly the person I was and the car I needed. He was very professional, experienced and friendly didn't over sell & wasn't pushy. He didn't make little of the car I traded in and gave me a fair price. The whole experience was hassle free.

Mr McGovern

Dealer was very responsive and fully understood my requirements. Dealer was very courteous at all times. There was no "overselling". Negotiation and commitments were very satisfactory. Assistance in paperwork, registration etc. much appreciated. N Smith & Sons are a long established company and it shows. I have no hesitation in recommending them to anybody.

Mr O'Boyle

Super efficient and customer friendly.

Ms O'Toole

Service was 100% from start to finish.

Mr McKenna

Dealer went out of his way explaining which engine would be best for the amount and type of driving I do.

Mr McCartney

Found the dealership to be very welcoming and there was a very happy atmosphere.

Mr Kearney

The customer service and attention to my needs was superb I would return without hesitation and highly recommend this garage and staff.

Mr Everitt

Karl did an excellent job at explaining everything to me, especially how to use the Bluetooth-seeing as I am not technically minded. He made it all so easy for me. He is a great salesman. Also Nicky Smiths are very welcoming to children, which is great! I will 100% trade in with them in about 2-3years time because they are so lovely and professional to deal with.

Mr Kelly

Top marks very happy

Mr Kearney

Everything was perfect from start to finish, don't need to improve on anything

Ms Walsh

I was delighted with the service given to me on deciding and purchasing my new Fiesta. Lovely team, very warm, friendly and helpful. No messing around when it came to ordering the vehicle I wanted, which was a bonus! Thanks to all.

Mr Whelan

From the time I called to look at a new car right through to taking delivery was a very hassle free experience everything was explained in a very friendly and businesslike manner, all my queries were answered and the way I was treated would make me return for my next purchase.

Ms Wilkinson

Very helpful and took us through our different options and spoke about the Ford Finance Deal which we didn't know about.

Ms Traynor

The dealer/salesman showed a real determination in respect of closing a deal with us on trading in our old Kuga against a new one and there was strong competition from another ford dealership, but Smiths went the extra mile so to speak to keep us with N. Smith and sons and even went online to tax the car for us while we were in the showroom before driving off with our new Ford Kuga, they couldn't have been more helpful.

Mrs Duffy

Everything about buying my new car was excellent

Ms Savage

It was an excellent experience. I was looked after very well.

Mrs Gibney

Salesman was very patient and answered all phone calls in courteous and pleasant manner at all time's best experience I have had in 25 years of purchasing new cars.

Mr Harris

The Salesman I dealt with was very friendly, professional and well groomed. In fact my husband commented on his suit and tie. He explained everything to me about the car I purchased and answered any questions I had myself. I could not have asked for a better experienced and the day I collected my car I was thanked for my business and given a lovely bottle of wine and chocolates. I even got two follow up phone calls to check that everything was okay with my car. Thank you Smiths of Drogheda.