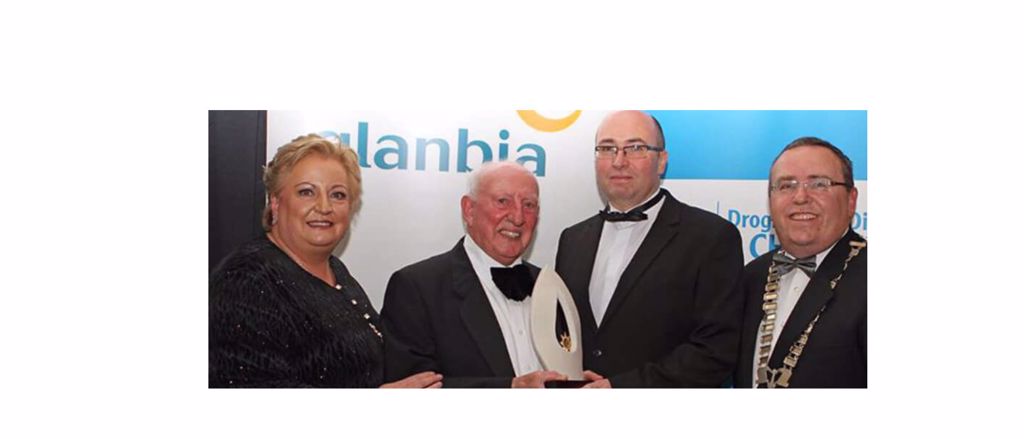 Lifetime achievement Award
Drogheda Chamber of Commerce Business Excellence Awards 2014
Lifetime Achievement Award for his Pioneering Spirit and contribution to the Community – Presented to Anthony Smith.
The whole team at Smiths of Drogheda would like to congratulate Anthony Smith.
The Lifetime Achievement Award presented to him in particular for his Pioneering Spirit and contribution to the Community could not have gone to a more deserving individual.
We thank you Anto (as we call him here at Smiths) for showing us the way, for laying the foundations, for never giving up, for all your advice. YOU are at the heart of Smiths of Drogheda and we look forward to the future with a renewed sense of tradition and determination to be the best we can be.
Smiths of Drogheda "A tradition of putting YOU first"
History
Nick Smith opened his first motor business in Drogheda in 1936. In 1937 he purchased the site Smiths of Drogheda now stands on, back then it was on the very outskirts of town.
In 1948 aged just Ten years old Anthony started helping his father Nick Smith after School.
In 1954 when Nick Smith passed away suddenly on Christmas Day aged just 51 this was to be a life changing time for Anthony.
He was taken out of School at just 15 and sent to Ford in Cork on a three year training course, coming home in September 1957 to build up the business and take care of his Family. So the second generation of Smiths took the helm.

Drogheda in the 1950's was a good town with plenty of Factories, Linen Factories, Iron works, Brewery's, Shoe Factories, Milling Companies, and Cement Factories Etc.
There were six sets of Petrol pumps on the Main Street West Street being part of the Main Dublin Belfast road.

In 1961 Anthony married the love of his life Mary Brady...their daughter Aisling followed in 1962 and they were blessed with three sons Nicky Tony and Kevin.
The next 40 odd years saw big changes, Anthony built a new Service and Parts building, and he also built a new Accident Repair Centre, New Petrol station with Convenience store with a staff of 42 in total employed.

There were good and bad times with some tough years and Credit Squeezes.
One of his highlights in 1978 was selling over 600 new Cars! In the huge depression from 1980-1985 many good Garages went out of business and indeed people were pushed to their limits, not unlike the last six years. The pickup in the late 80's and the dawn of the "Celtic Tiger" saw new car sales going through the roof.
Smiths of Drogheda or N. Smith & Sons Ltd as they were known, employed and trained over 1000 people over the years, 30 currently, some of whom are still employed over 40 years.

Always a keen golfer Anthony was Captain of Laytown and Bettystown Golf Club back in 1967 and indeed a lifelong member and past President of the SIMI Motor Traders Golf Society from the 32 counties winning the prestigious Dunlop Cup in 2000 after 43 years of trying!!
Anthony was also Chairman of Drogheda United back in the McAlinden Golden Era.

1998 saw more change when Anthony had heart trouble and had to step down, and now the third generation of Smiths, Nicky, took the Captains seat and together they upgraded the facilities, Petrol station and shop closed to make way for a new State of the art Ford Showroom and offices.
Thankfully there is light at the end of the tunnel and we seem to have turned the corner with new Car Sales and commercials selling again.

Anthony feels blessed that his Family and indeed their Families with Daughters and sons in law and his grandchildren all live locally and he is never happier then when surrounded by the love of his family and friends.

These days Anthony can be found on the Reception desk keeping his hand in the business, point of contact for customers who love to chat with him. He is happy to give anyone a lift home and indeed recently received a "tip" from a Completely Satisfied Customer he dropped down town and insisted he take it.
Every staff member loves to see him, and listen to his stories and wealth of knowledge, and he makes time for everyone.
What keeps him going? A great sense of humour, the love of his family and friends, Hard work, and a fantastic staff who represent Smiths of Drogheda with pride. Of course behind every great Man is a great woman!