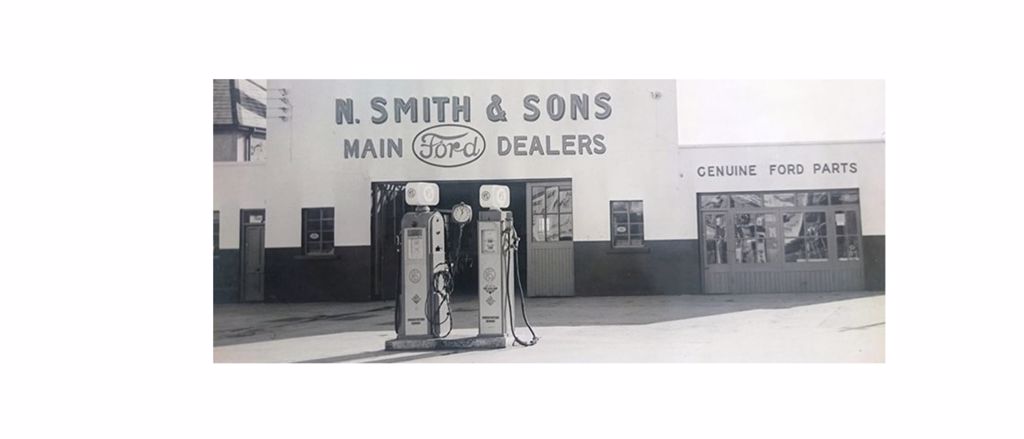 Our History
In 1936 Nick Smith opened his Garage just off the main street in Drogheda and traded as Mechanical and Electrical engineers. He very quickly established himself in servicing all kinds of vehicles and machinery, with his first employees a mechanic and an apprentice.
In 1937 he purchased the site our Dealership now stands on however, back then it was on the outskirts of the town and the general opinion was that nobody would travel to it! He moved to this new Garage in 1938, just at the start of World war two and the next eight or nine years were very tough. No Vehicles or Parts were available but, repairs to farm and factory machinery helped keep the doors open. Nick also became a dab hand at recycling old bits and pieces of machinery and turning them into Car parts!
After the war the government introduced a rural electrical scheme and we were busy with providing electricity to the Farming Community. 1947 saw the arrival of the first new vehicles after the war, Nick was appointed Main Morris Dealer and as the country came out of the war years, cars and vans were available and business in general gradually got better. As the years went by he employed more staff, his garage was well placed out of Town and in January 1953 Ford needed a new dealer in South Louth. Nick Smith applied and was awarded the Ford Franchise, a marriage that has lasted and is still very much alive to this day.
However, sadly Nick Smith didn't enjoy much of the fruit of his work and passed away suddenly December 25th 1954 aged just 51 years, leaving his wife Molly and 9 children. Nobody in the family knew anything about business, however friends rallied around and plans were put in place to keep the business going.
So it was then that Anthony, the eldest boy aged just 16 was sent to Ford Cork on a three year training course.
Anthony came back to Drogheda at the end of 1957 and the second generation Smiths took the helm. The next 42 years saw big changes, we built a new Service and Parts building, we built a new Accident Repair Centre, New Petrol Station with Convenience Store, staff of 42 in total employed. We went through "Credit Squeezes" but 1980 to 1985 were the worst, the Nation was on its knees, but thankfully our company came through it all.
1998 saw more change, Anthony had heart trouble and had to step down, so now the third generation Smith, Nicky, took the captains seat. Our company saw a lot more changes; all facilities were upgraded, filling station and shop closed to make way for our new State of the art Ford Showroom and offices. Everything was doing well until 2008. Like every business we felt the heat and still feel it although thankfully our company had a better year in 2014 and the future of both our Country and our Company has a much brighter colour.