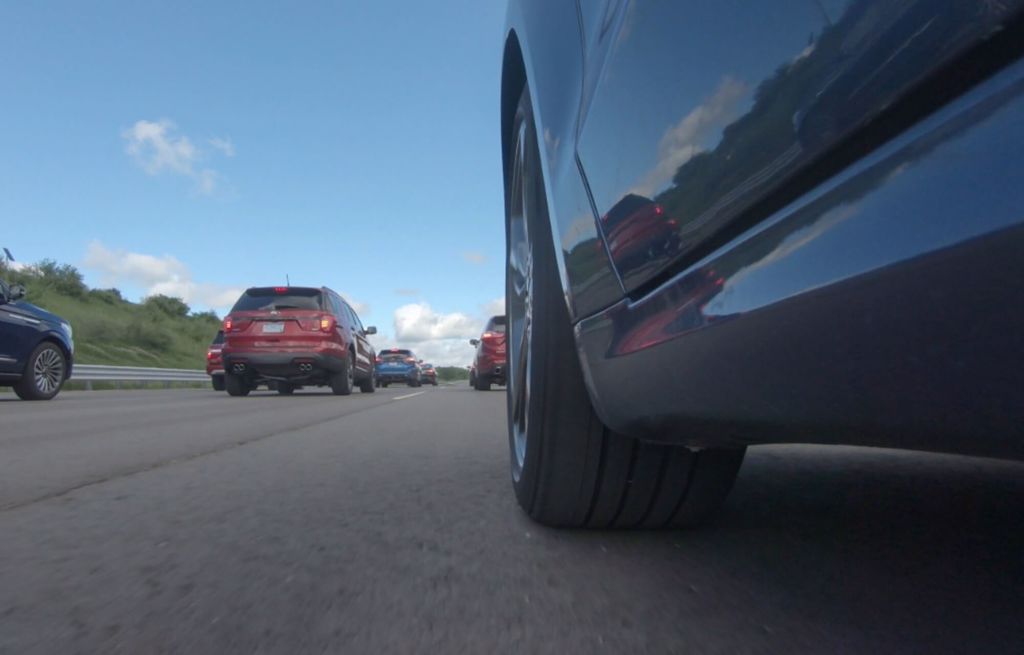 New demonstration shows how Ford driving technology can help reduce phantom traffic jams
In Germany, the annual summer exodus of holidaying families to the warmer southern regions is such a phenomenon that it has its own nickname: the "Blechlawine" – or "metal avalanche".
On these extra-busy roads – commonplace across Europe during the summer holiday season –so-called phantom traffic jams often occur, seemingly out of nowhere.
These frustrating jams are easily caused by human factors – such as merging into traffic without signalling, distracted driving, poor driving habits and reaction times, or unnecessary braking. Once one driver hits the brakes, a chain reaction can occur as other drivers tap their brakes, causing the flow of traffic to grind to a halt.
Now, Ford and researchers from Vanderbilt University, a private research university in Tennessee, U.S., have demonstrated that such hold-ups could be minimised with widespread use of technology already offered on Ford vehicles from the Fiesta small car to the Transit van.
Adaptive Cruise Control (ACC) technology can automatically slow down and speed up to keep pace with the car in front without getting fatigued or distracted.
"A fun summer holiday family road trip can quickly become irritating when traffic slows to a crawl – especially once you learn there was no reason for the gridlock," said Torsten Wey, manager, Driver Assistance and Safety Technology, Ford of Europe. "We encourage Ford owners who have Adaptive Cruise Control to use it during their summer travels in the hope this smart technology today can be that first step to help ease commutes."
On a closed Ford test track, 36 drivers simulated normal highway traffic using ACC technology. Those drivers then drove the same course, but without the technology – meaning they had to manually brake and accelerate the vehicle.
The results: vehicles using ACC reduced the impact of a braking event more than those vehicles without the activated technology. Even with just one in three vehicles using ACC, the test yielded similar traffic-busting benefits.
See the effects for yourself in the short film:
"For years, traffic researchers and engineers have been looking to smart vehicle technologies to reduce traffic congestion, whether that's vehicles that talk to each other or vehicles that can predict the road ahead," said Daniel Work, civil engineering professor at Vanderbilt University. "This demonstration was a unique opportunity to understand how commercially-available active driver-assist technologies can be used to positively influence traffic flow."
Ford currently offers Adaptive Cruise Control on 80 per cent of the company's passenger and commercial vehicle line-up in Europe, and with the all-new Ford Focus recently introduced an enhanced version of the technology featuring Stop & Go, Speed Sign Recognition and Lane-Centring functionality for effortlessly negotiating stop-start traffic.
A previous EU-funded joint research project led from the Ford Research and Innovation Centre, Aachen, Germany, concluded that vehicles equipped with ACC and Forward Collision Warning technology could help prevent or mitigate the effects of more than 5 per cent of motorway accidents resulting in injuries; save drivers more than 3 million hours per year stuck in traffic; and reduce passenger car fuel consumption by 3 per cent.
Contact us for more information on Adaptive Cruise Control and to find out which vehicles come with Adaptive Cruise Control today.
News