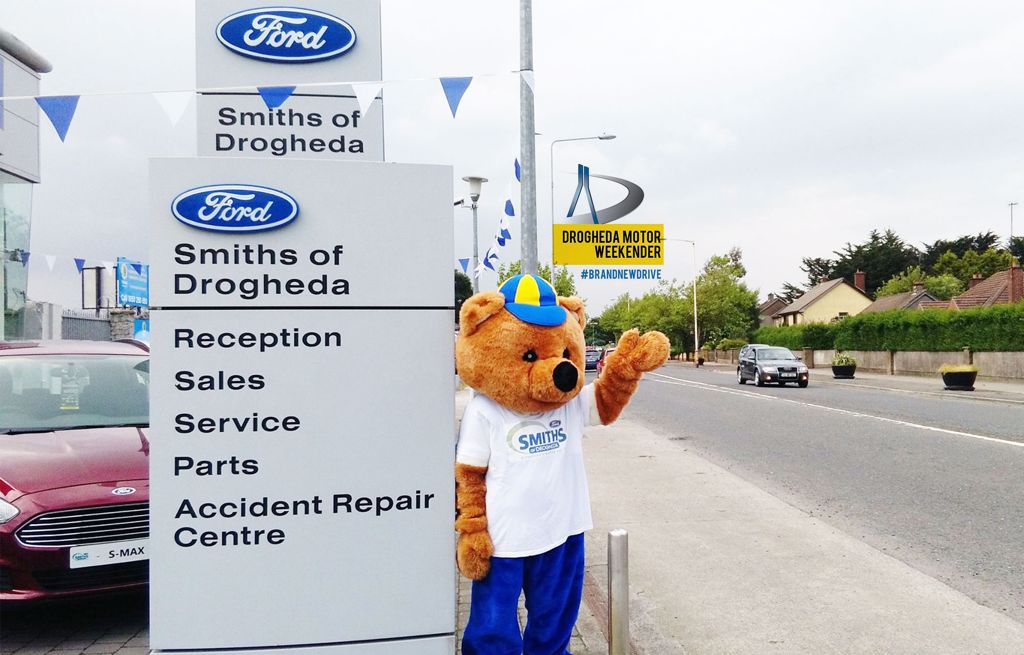 What have Smiths of Drogheda got to offer you?
What have Smiths of Drogheda got to offer you for your Drogheda Motor Show weekender?
On Saturday June 17th 10-5pm and Sunday June 18th 12-5pm we will be celebrating with great entertainment and we will be running lots of offers you just couldn't refuse!
We have huge Ford New Century discounts on offer right across the fantastic Ford brand.
Our weekend kicks off 5-7pm Friday 16th June and continues Saturday from 10-5pm and Sunday 12-5pm.
Every Customer who buys a new 172 Ford will receive a Free €250 voucher off their new car registered before July 31st.
We will be serving free breakfast rolls throughout the day and teas and coffees to wash them down. Free gifts for everyone – lucky dip – pick a number and win anything from a Smiths of Drogheda key ring to your next service paid for!
Lucky dip for the kids – prizes will range from savings boxes to colouring books pens and an assortment of Child friendly gifts.
Saturday and Sunday from 2-4pm Free entertainment – Michael Gerrard DJ supreme playing all your favourite hits from the 70's 80's 90's naughtys and right up to date live here in Smiths of Drogheda Saturday 2-4pm and Sunday 2-4pm – why not email or phone us with your request and dedications we will play them here for you!
Henry our Teddy Mascot will also be here for photo opportunities with the children.
Pop by and see what all the fuss is about!
At least enjoy some of the highlights..
Free all day Breakfast rolls!
Fantastic New Century Deals across the Ford Brand
Free lucky dip prizes for everyone!
We at Smiths of Drogheda appreciate your business; we would not be here without you and look forward to celebrating100 years of Ford Ireland together with our 81st year here in Drogheda and look forward to seeing you over the weekend with some fantastic deals on new 172 Fords on the table.
If you have any questions, please get in touch.
Email or Call MeBook AppointmentBook a Test DriveValue My VehicleBook a Service
News