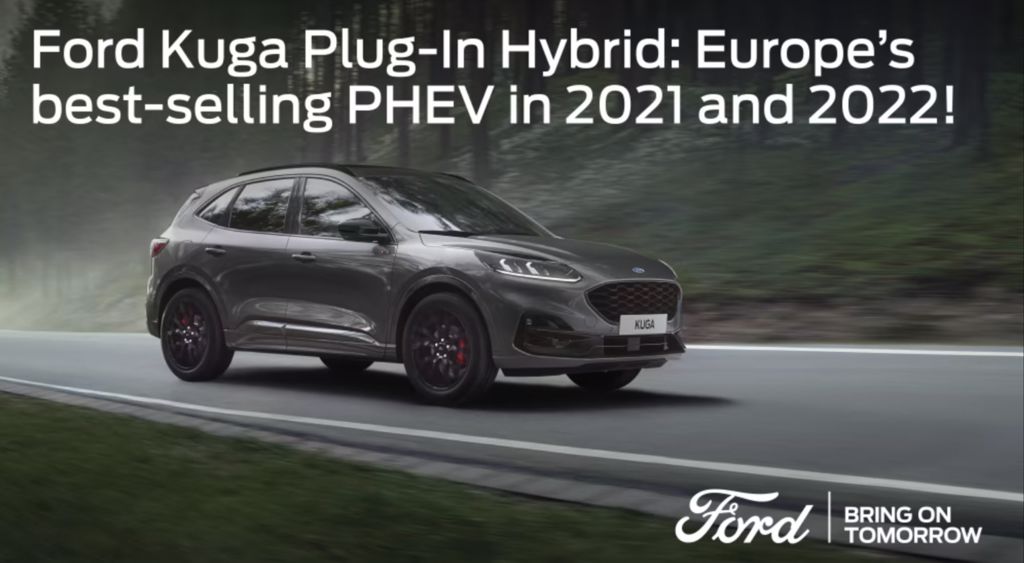 FORD KUGA PLUG-IN HYBRID IS EUROPE'S BEST-SELLING PHEV FOR A SECOND YEAR IN SUCCESSION
Ford News
A 20 per cent increase in Kuga Plug-In Hybrid 1 deliveries year-on-year helped the electrified Ford SUV become the best-selling plug-in hybrid (PHEV) of any brand across all European markets for the second year in a row in 2022. 2,3
Kuga Plug-In Hybrid's intelligent powertrain is designed to provide flexibility for customers, with an all-electric overall range of 57-67 km WLTP 1 and energy consumption from 14.4-15.9 kWh/100 km WLTP allowing frequent journeys using electric power.
The Kuga range was last year enhanced with the Kuga ST-Line X Black Package, giving customers the option to add unique exterior design elements including a black-painted roof, black-finished mirror caps, front fascia vents and rear spoiler, as well as standard black-painted 20-inch alloy wheels.
Kuga models across the range can since last year also be specified with an 18-way adjustable comfort seat option for driver and front passenger, approved by leading spinal health organisation Aktion Gesunder Rücken e.V. (AGR), the Campaign for Healthier Backs.
Quotes

"Kuga Plug-in Hybrid's growing success shows the role flexible powertrains can play in helping customers make the transition to electric power."

Jon Williams, general manager, Ford Blue Europe
Related stories and media kits
Ford Kuga Plug-In Hybrid Drivers Skip the Fuel Stops to Slash Their CO2 Emissions in Europe's Best-Selling PHEV. Find out more.
1 Kuga Plug-In Hybrid homologated CO2 emissions 21-30 g/km WLTP, homologated fuel efficiency 0.9-1.3 l/100 km WLTP and pure electric driving range 57-67 km WLTP. CO2 emission and fuel efficiency ranges may vary according to vehicle variants offered by individual markets.
The declared WLTP fuel/energy consumptions, CO2-emissions and electric range are determined according to the technical requirements and specifications of the European Regulations (EC) 715/2007 and (EU) 2017/1151 as last amended. The applied standard test procedures enable comparison between different vehicle types and different manufacturers.
2 Ford of Europe reports sales for its 20 European traditional markets: Austria, Belgium, Britain, Czech Republic, Denmark, Finland, France, Germany, Greece, Hungary, Ireland, Italy, Netherlands, Norway, Poland, Portugal, Spain, Romania, Sweden and Switzerland.
3 Data provided by JATO Dynamics and IHS Markit.
News