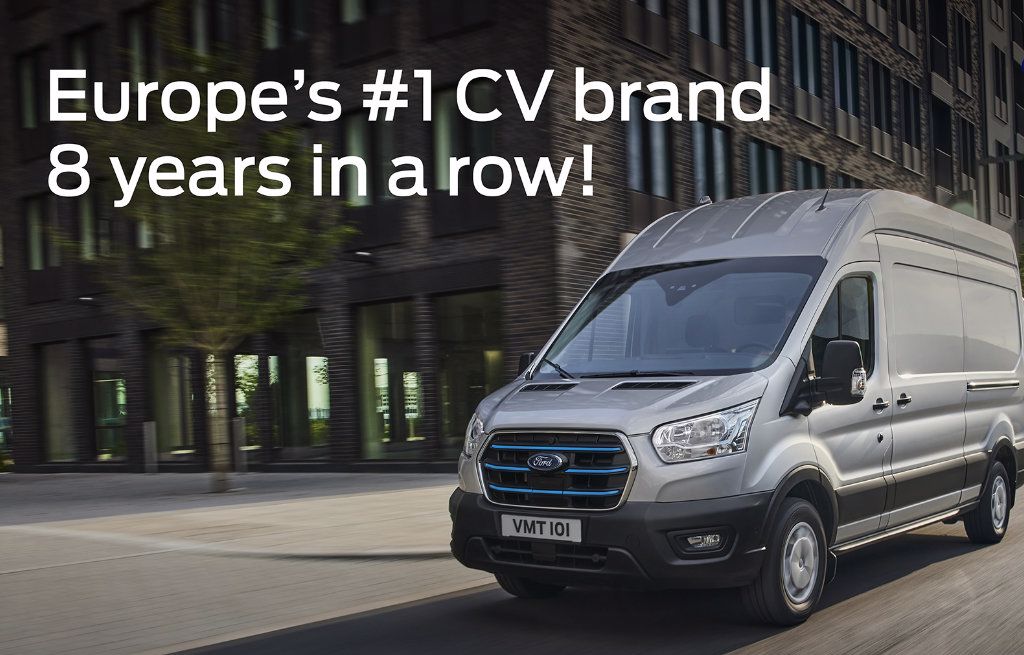 BUSINESS CUSTOMERS HELP FORD PRO SET RECORD EIGHTH STRAIGHT YEAR AS EUROPE'S COMMERCIAL VEHICLE SALES LEADER
Ford News
Ford Pro led the industry in commercial van and pickup sales in Europe for 2022, increasing its share year-over-year in eleven markets
Transit Custom named Europe's best-selling one-tonne van and best-selling vehicle in Britain; Ranger pickup also segment leader in Europe for the eighth year in a row
DUNTON, UK, Jan. 13, 2023 – Ford Pro was Europe's commercial vehicle sales leader in 2022, 1 marking an eighth successive year of market leadership for Ford and a new record in the industry.
Ford Pro, the commercial vehicles and services business within Ford, recorded its highest-ever overall market share of 15.0 per cent and increased its share year-over-year in eleven countries: Britain, Germany, France, Italy, Spain, Greece, Ireland, Portugal, Romania, Sweden, and Turkey.
"Setting a new record of eight consecutive years of European market leadership demonstrates how much our commercial customers rely on Ford's vans and pickups to deliver for their business. As we roll out our unique platform of software, charging and services across Europe, we are determined to ensure Ford Pro remains our customers' trusted partner for productivity," said Hans Schep, general manager, Ford Pro, Europe.
Spearheading success was the Ford Transit Custom, 2,3 which last year was again the best-selling one-tonne van in Europe. Transit Custom was also the best-selling vehicle overall in Britain, where Ford extended its market leadership to 57 consecutive years. Ford Pro last year announced the all-electric E-Transit Custom, 4 the model's EV successor.
As part of a major roll-out of new products and services, Ford Pro launched in the spring of 2022 the all-electric E-Transit van, 5 which from its standing start has led monthly sales of the two-tonne EV van segment since June last year. Ford Pro also unveiled its integrated platform of software, charging, servicing and financing, purpose-built to accelerate the productivity and sustainability of businesses of all sizes across Europe.
In 2022, the company announced the all-new Ford Ranger 3,6 pickup, as the product strengthened its segment leadership and marked eight successive years as Europe's most popular pickup.
For more information on Ford Pro's commercial vehicles and suite of software and services, visit www.FordPro.com.
1 Austria, Belgium, Britain, Czech Republic, Denmark, Finland, France, Germany, Greece, Hungary, Ireland, Italy, Netherlands, Norway, Poland, Portugal, Spain, Romania, Sweden, Switzerland, Turkey
2 Ford Transit Custom homologated CO2 emissions 171-318 g/km WLTP and homologated fuel efficiency 6.5-12.1 l/100 km WLTP.
3 The declared WLTP fuel/energy consumptions, CO2-emissions and electric range are determined according to the technical requirements and specifications of the European Regulations (EC) 715/2007 and (EU) 2017/1151 as last amended. The applied standard test procedures enable comparison between different vehicle types and different manufacturers.
4 Officially homologated driving range will be published closer to on-sale date.
5 In accordance with the Worldwide Harmonized Light Vehicles Test Procedure (WLTP). A range of up to 317 km (intended target value according to WLTP) can be achieved with a fully charged battery - depending on the existing series and battery configuration. The actual range may vary due to various factors (e.g. weather conditions, driving style, route profile, vehicle condition, age and condition of the lithium-ion battery).
6 Ford Ranger homologated CO2 emissions 208-315 g/km WLTP and homologated fuel efficiency 7.9-13.8 l/100 km WLTP.
News