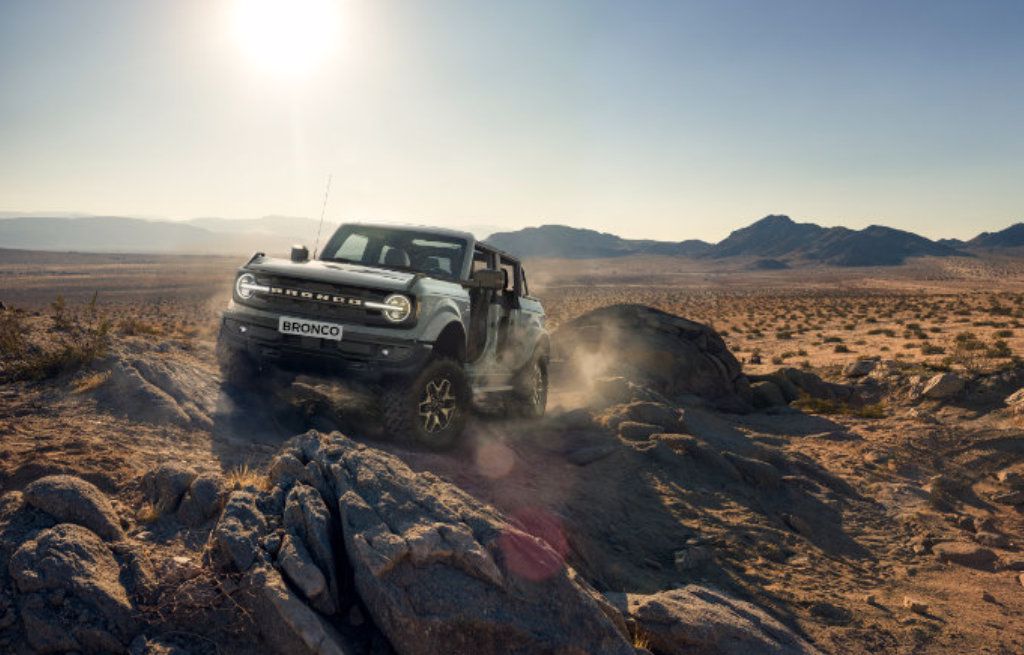 FORD BRONCO VENTURES INTO NEW TERRITORY
ICONIC, AMERICAN OFF-ROADER COMING TO EUROPE IN LIMITED NUMBERS
Ford introduces iconic 4x4-only Bronco SUV to Europe with rugged design, extreme off-road ability and latest-generation tech for a wide range of off-road conditions
Bronco's "Goes Over Any Type of Terrain" ability delivered by exclusive Terrain Management System™ with up to seven selectable drive modes, Trail Toolbox and high-performance off-road suspension
Vast range of available accessories includes roof tents, light bars, equipment carriers and washable seat trims to support all kinds of adventures
COLOGNE, Germany, July 4, 2022 – Ford today announced an all-American legend is coming to Europe for the first time with the introduction of the 4x4-only, extreme off-road-capable Bronco1 SUV.
Delivering go-anywhere ability enhanced by smart technologies, the four-door Bronco will be available in strictly limited numbers in selected left-hand drive European markets from late 2023.
Unmistakeable design inside and out takes inspiration from icons including the 1966 Bronco original, the tough looks and rugged ability of the US market F-Series truck, and the performance spirit of the Ford Mustang, to create an SUV with a unique style and a genuine sense of adventure.
Bronco earns its "G.O.A.T" (Goes Over Any Type of Terrain) moniker thanks to a sophisticated four-wheel drive system and innovative adventure technologies including Trail Control™ and up to seven drive modes. 2
Developed from the outset with adventure front-of-mind, the versatile Bronco offers unique features like removable panels, integrated mounting points that are designed specifically for accessories, and easy to clean materials as standard. Bronco customers can choose from a wide range of Ford-approved accessories, all designed for seamless integration and maximum personalisation to suit a variety of adventurous activities.
"The Bronco is Ford's toughest and most versatile off-roader, and the new generation fuses the DNA of the original with the latest terrain-handling technologies and a vast range of accessories to create a new off-road icon," said Matthias Tonn, chief engineer, Import Vehicles, Ford of Europe. "Following the huge success of the new Bronco in the US we are thrilled to be bringing some of the spirit of adventure to our customers in Europe."
Rebirth of a legend
Since the first example was introduced to the US in 1966, the Bronco has represented the ultimate in freedom, fun and outdoor capability. Ford reintroduced the iconic Bronco in North America in 2020 after a 25-year absence, staying true to the original DNA while introducing all-new, innovative features for genuine off-road functionality. Now Bronco is being offered in Europe, in strictly limited numbers for outdoor enthusiasts.
Starting with a clean sheet of paper, the Bronco design team began by making a digital, full-size scan of the first-generation model to ensure that the strong proportions and instantly recognisable shape remained key elements of the new design. Short overhangs, strong feature lines and bold, functional details give Bronco the purposeful and rugged look that make it unmistakable, as well as contributing to its exceptional off-road capability.
The front of the vehicle features the distinctive full-width grille, circular headlights and bold badging to give a truly unique look. The squared-off body panels are designed to make it easier to see the SUV's outer corners and therefore easier to place in challenging off-road conditions.
Bronco also features many simple but clever touches such as the bolt-on plastic wheel arches and trail sights – raised sections on top of the front wings to help the driver locate the vehicle corners – that can be used as tie-down points capable of supporting up to 68 kg. This makes it easier to transport larger items such as canoes.
The Bronco has a removable hard top, complete with a sound-dampening headliner for comfortable on-road performance. The hard top also separates into four panels with dedicated on-board storage bags for the front two panels for maximum flexibility. All the doors can be removed completely 3– and individually – using a single tool and in just eight minutes, providing the ultimate in fresh-air freedom as well as even greater visibility in off-road environments.
Frameless windows reduce the overall weight of the doors, making them light enough to be removed by owners of almost any stature. Customers of conventional 4x4s with removable doors are left with the issue of what to do with them, while Bronco offers dedicated storage bags to allow the doors to be stored safely and securely on board, ready for refitting in a matter of minutes. The design team also mounted the rear-view mirrors ahead of the windscreen to maintain visibility even with the doors removed.
The Bronco features several other removable elements that allow both for customisation and enhanced off-road performance, including a front grille and bumper that can be removed and swapped for alternative versions. The plastic wheel arch flares are designed to separate without damage in the event of an impact in off-road conditions and can be easily and quickly replaced.
All around the Bronco are several design "Easter eggs" – hidden details that celebrate the Bronco's heritage and are designed to be discovered by the owner as they use their vehicle. Examples include hidden bucking Bronco logos, a graphic illustrating the original 1966 model range, a bottle opener built into the interior and hidden GPS coordinates to locations used for testing during the Bronco's development.
"It was crucial that the return of Bronco was authentic to the legacy of the original iconic, rugged SUV," said Paul Wraith, Bronco chief designer. "Every decision we made about the Bronco's design was about serving our customers better, maximising capability in the wild, its independence as a brand, and leaving no rock unturned – even down to the stamping of the bolt heads and the lettering on the tyres."
Technology to set you free
The original Bronco earned the nickname G.O.A.T thanks to its remarkable off-road capability, and nothing less than similarly outstanding performance in tough conditions is delivered by the new generation. Thanks to intelligent drive technologies, the Bronco's capability is accessible by novice adventurers as well as experienced off-road drivers.
At the heart of the Bronco's go-anywhere ability is the Terrain Management System™ that makes it easy for drivers to select the mode they need to suit the conditions. Alongside on-road modes such as Normal, Eco, Sport and Slippery, dedicated G.O.A.T. off-road modes include Mud/Ruts, Sand and an available racing-inspired Baja mode, each mode optimising throttle, gearbox shift points and steering response to suit the environment.
Bronco is available with a choice of a two-speed electronic transfer case that allows shifting on the move, or a two-speed electromechanical transfer case with an automatic mode, allowing the system to switch seamlessly between two-wheel drive and four-wheel drive depending on the conditions. A locking rear differential is standard, while an available locking front differential and front anti-roll bar disconnect system delivers maximum articulation in challenging conditions.
The Bronco also offers a Trail Toolbox, a suite of sophisticated off-road technologies to support drivers and allow them to explore the vehicle's capabilities in confidence. Trail Control™ 2 operates in a similar way to cruise control; the driver can select a speed up to 31 km/h and the vehicle will automatically manage acceleration and braking to maintain the selected speed while the driver concentrates on steering through difficult terrain.
Trail Turn Assist2 uses brake-based torque vectoring to reduce turning radius by up to 40 per cent when off-roading in confined spaces, while Trail One-Pedal Drive2 allows the driver to accelerate and brake using only the accelerator pedal, making it easier to control speed accurately when driving in challenging conditions. Driver assistance technologies include AdvanceTrac™ with Roll Stability Control™ and Trailer Sway Control for driver confidence when towing.
Built to be bold
Under the skin, Bronco is built on a boxed high-strength steel chassis with seven cross‑members, providing a tough core as well as allowing substantial suspension travel for spectacular off-road ability.
Bronco features High-Performance Off-Road Stability Suspension (HOSS), which comprises of independent wishbones with long-travel coil-over springs at the front, reducing unsprung weight by up to 20 per cent compared to solid axle designs, as well as offering superior ride quality and consistent contact with the surface. At the rear, a solid five-link rear axle with variable-rate long travel springs is standard, combined with heavy-duty dampers all-around. Available 17-inch and 18-inch alloy wheels are fitted with all-terrain tyres for on-road comfort and off-road confidence.
Customers seeking the highest level of off-road performance can ensure critical components are protected with an available front bash plate as well as shielding for the engine, transmission, transfer case and fuel tank. Available side rock rails are strong enough to support the weight of the vehicle for extreme rock-crawling, exposed tow hooks front and rear are standard, and a high-strength boron steel roof bar is fitted with integrated side curtain airbags, as well as seat side airbags and front airbags for complete confidence.
Tough outside, tough inside
Matching the tough and purposeful exterior, the new Bronco's interior design is highly functional, packed with technology but also robust and designed to withstand use in tough environments. The instrument panel takes inspiration in its design from the first-generation Bronco, with colours inspired by natural palettes and outdoor gear, and materials chosen for durability.
Grab handles are integrated into the instrument panel and centre console for passenger comfort in all conditions. The centre console features a wireless charging pad that has been designed to keep a mobile phone in place even in extreme angles of lean. Instrument panel surfaces are wipeable and physical switches in the cabin are silicone-sealed and feature rubber touchpoints to ensure they are protected from the elements and are easy to clean.
Even though Bronco is built for the toughest conditions, there are no compromises in terms of comfort or convenience features. An 8-inch partial TFT instrument cluster is paired with a 12‑inch LCD centre touchscreen featuring the latest-generation SYNC4 communication and entertainment system,4 which benefits from Ford Power-Up wireless software updates for improved functionality over time.
Bronco also offers attachment points on top of the instrument panel for a device rack, allowing customers to attach their cameras or mobile phones with dedicated 12-volt and USB power connections.
Apple CarPlay and Android Auto5 are standard alongside a B&O® Premium Sound System 6 with 10 speakers including a subwoofer, which integrates seamlessly with the available FordPass7 app. Even when the going gets tough Bronco is looking out for you; a standard 360-degree camera system with off-road spotter views provides a view of the wheels not possible from the driver's seat, increasing visibility during technical challenges such as rock crawling.
Create your own adventures
The new Bronco is designed to be ready for any kind of adventure, and customers can enhance their experiences with a wide choice of accessories designed to work hand-in-hand with Bronco's systems while being easy to fit using dedicated mounts with branded Bronco Bolts.
Enhanced lighting systems such as an available roof-mounted light bar and A-pillar spotlights connect simply using the Bronco Bolts, while those wanting to sleep out of their Bronco can choose from a rear tent, roof tent or side awning for the ultimate in outdoor freedom. Neoprene seat covers offer enhanced protection in the toughest of off-road conditions, while roof rails and dedicated carriers available for the roof and tailgate enable easy transportation of equipment such as skis, bicycles and roof boxes.
"Bronco is built to give customers the freedom to explore with confidence, and this iconic car is adaptable to suit almost any kind of adventure that you should wish to go on without sacrificing comfort, utility or performance. It's Ford's most capable and versatile off-road SUV, and it is going to be empowering a lot of fun in Europe," Matthias Tonn said.
# # #
1 Officially homologated fuel efficiency and CO2 emissions figures will be published closer to on-sale date. The declared WLTP fuel/energy consumptions, CO2-emissions and electric range are determined according to the technical requirements and specifications of the European Regulations (EC) 715/2007 and (EU) 2017/1151 as last amended. The applied standard test procedures enable comparison between different vehicle types and different manufacturers.
2 Driver-assist features are supplemental and do not replace the driver's attention, judgement and need to control the vehicle. It does not replace safe driving. See Owner's Manual for details and limitations.
3 Removal of doors for off-road use only. Removing the doors from the vehicle will affect protection provided by the doors and may affect safety system performance, including safety canopy and front seat mounted side airbags, during a crash or rollover.
4 Don't drive while distracted or while using handheld devices. Use voice-operated systems when possible. Some features may be locked out while the vehicle is in gear. Not all features are compatible with all phones.
5 Requires phone with active data service and compatible software. SYNC 4 does not control 3rd party products while in use. 3rd Parties are solely responsible for their respective functionality.
6 BANG & OLUFSEN© 2021 and B&O© 2021. BANG & OLUFSEN™ and B&O™ are registered trademarks of Bang & Olufsen Group. Licensed by Harman Becker Automotive Systems Manufacturing Kft. All rights reserved.
7FordPass Connect, the FordPass app and complimentary Connected Service are required for remote features (see FordPass terms for details). Connected Service and features depend on Vodafone or Vodafone partner mobile network availability. Evolving technology/mobile networks/vehicle capability may limit functionality and prevent operation of connected features. Connected Service excludes Wi-Fi hotspot.
News