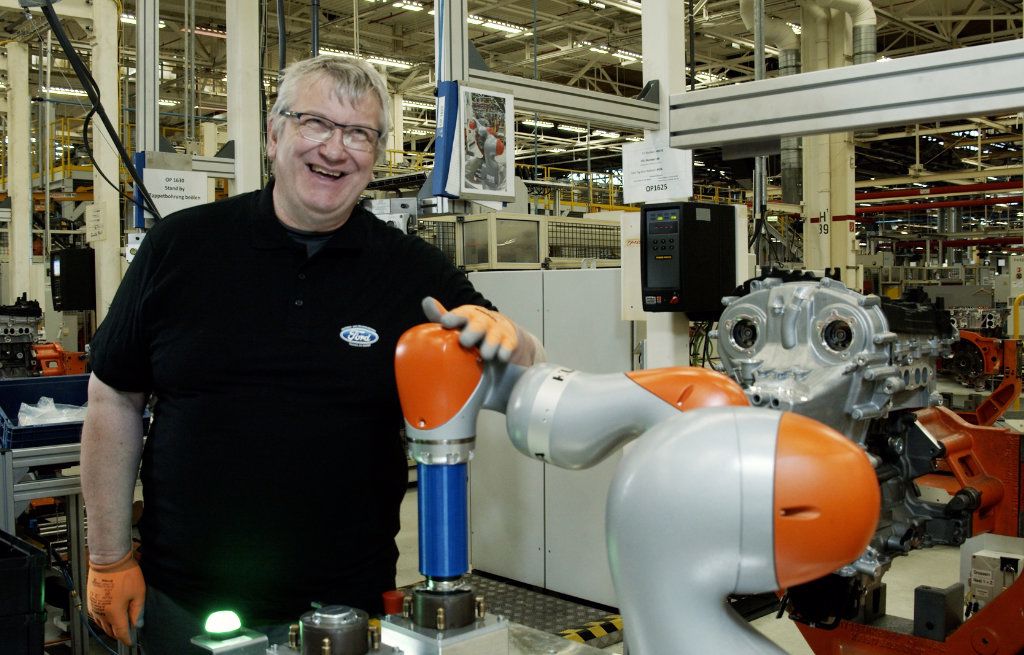 ROBBIE THE COBOT HELPS DISABLED PEOPLE AND THOSE WITH REDUCED MOBILITY TACKLE FORD ASSEMBLY WORK
Production line employee Dietmar Brauner thought his 30-year career was over after recurring health issues led to reduced mobility in his shoulder and wrist. But now he is bringing all his experience to bear on a wider range of tasks thanks to a new colleague – a collaborative robot that he has nicknamed Robbie.
Robbie the Cobot is designed to work together with those with reduced mobility as well as disabled people by taking on tasks that such employees might otherwise find difficult or impossible. Following a successful 18-month trial, Ford is keeping Robbie on a permanent basis and it could lead to further cobots being installed in Ford production plants to broaden the working opportunities to a more diverse range of people.
"Over the years, it got harder and harder for me to do my job, Then, along comes this little robot and, for me, it's like having an extra arm – a very strong extra arm," said Dietmar. "It's changed everything. I hope that it will open the door for others like me to get the chance to do, or keep doing, the jobs they love."
Working together
Dietmar and Robbie work together on the Ford assembly line in Cologne, Germany, attaching circular covers to engines. Dietmar places two covers in the holders and prompts Robbie to pick each one up and press them firmly into place. This precision task requires lining up the holes perfectly so Dietmar can use an electric screwdriver to secure the covers and the engine moves along the line.
Ford's research project was designed to show that disabled people and those with reduced mobility could take on jobs in manufacturing without the need for protective devices or safety barriers. Robbie moves only when activated by Dietmar and has sensors that detect when his hands or fingers might be in the way.
The award-winning research project was supported by RWTH Aachen University and the Landschaftsverband Rheinland (LVR), the largest service provider for disabled people in Germany, which provided €372,000 funding.
Previously, Ford introduced other cobots that have been programmed to assist production line workers with complex procedures, such as polishing vehicles, and also introduced a self-driving robot called "Survival".
Further Quotes
"Robbie the Cobot has helped demonstrate the wide range of roles that disabled people and people with reduced mobility can fulfil if the care is taken to design a workplace that specifically fits the needs of the worker. Collaborative robots could help both create more jobs as well as extend the careers of our existing employees."
Oliver Färber, plant manager, Cologne Powertrain Operations, Ford of Europe
"We have implemented a human-centred workplace unique to the industry. Following the success of this project, we are now implementing such workplaces in other projects specifically for disabled people. Suddenly, the possibilities seem endless for human-cobot collaborations."
Mathias Hüsing, professor, RWTH Aachen University
News