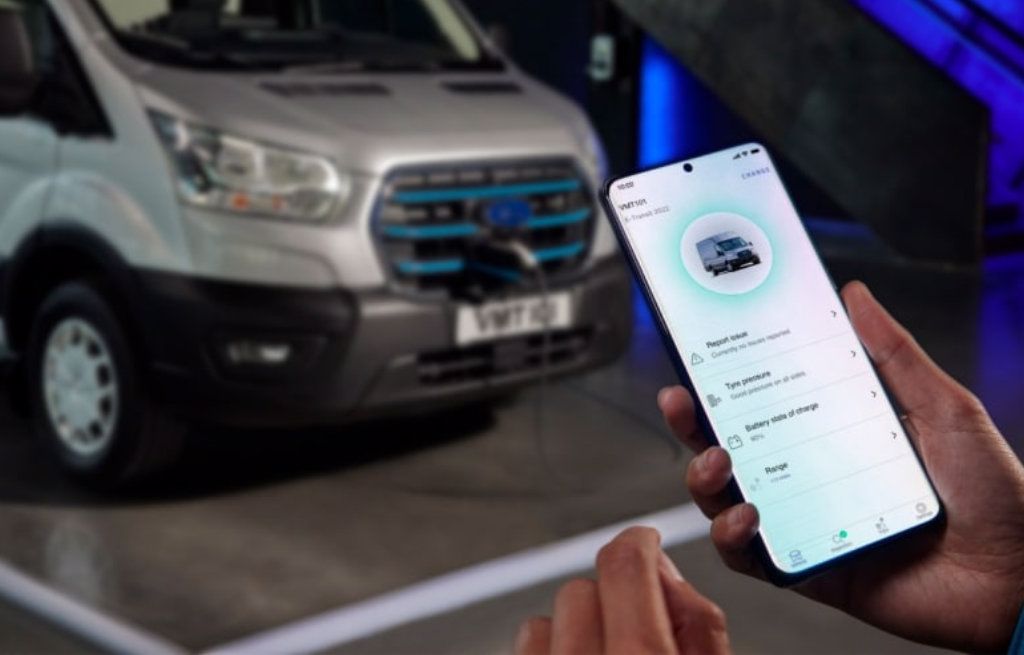 LEADING FROM THE FRONT: FORD PRO OPEN FOR BUSINESS TO DRIVE PRODUCTIVITY FOR EUROPE'S COMMERCIAL FLEETS
Ford News
Ford Pro rolls out comprehensive solution to accelerate productivity for European commercial customers, integrating vehicles with software and digital services
End-to-end Ford Pro solutions increase uptime, lower operating costs and enhance sustainability for businesses of all sizes as they transition to electric vehicles
Ford Pro builds on the strong global foundation of commercial vehicle leadership; new business targets global revenues of $45 billion by 2025
Ford Pro today signalled a step change for European commercial vehicle fleet productivity with the roll-out of its innovative, digital solutions designed to increase uptime and lower operating costs.
Formally launched to European customers at a special event in Barcelona, Spain, Ford Pro is a new global business dedicated to delivering solutions to commercial customers of all sizes to accelerate their productivity.
Ford Pro solutions combine software, charging, service and financing for commercial vehicles, providing customers with one comprehensive platform to operate their fleets as they adopt connected and electrified vehicles across their business.
"We are entering the always-on digital age, and running a fleet has never been more complex," said Ted Cannis, CEO, Ford Pro. "Ford Pro makes it easy for businesses to boost their productivity, with a one-stop-shop solution delivered by a brand they can trust."
Ford Pro is a first-of-its-kind venture in the commercial vehicles sector, providing fully integrated, digital-first solutions to help customers manage their fleets with unrivalled convenience and efficiency, whether they run diesel- and petrol-powered vehicles, all-electric models, or even non-Ford vehicles.
The roll-out across Europe, where Ford has been the leading commercial vehicle brand for seven consecutive years, 1 supports Ford Pro's commitment to scaling digital software capability and services-based income, and will contribute to global revenues targeted to reach $45 billion by 2025.
In the US, where Ford Pro launched earlier this year, it has been demonstrated that the network effect of integrated solutions featuring web-based fleet management tools can reduce the total cost of fleet ownership anywhere from 10 per cent to 20 per cent. 2
"Our European commercial team has been focused on helping our customers' businesses to thrive, and the launch of Ford Pro will raise that to a new level," said Hans Schep, general manager, Ford Pro Europe. "As Ford Pro delivers an exciting new generation of all-electric vehicles, integrated with industry-leading digital services, our customers can look forward to a new era of productivity and growth."
Ford Pro Vehicles – hard-working vehicles to suit every job and customer
Connected vehicles are at the heart of Ford Pro's integrated offering, enabling customers to maximise fleet productivity and uptime using the full suite of integrated solutions available. Ford Pro Vehicles offers a range of world-class commercial vehicles developed using Ford's unrivalled global knowledge of commercial customer needs, and led by the iconic Transit family – the world's most popular cargo van range. 3
Ford Pro will help ease customers' transition to electric fleets with its range of capable, all-electric commercial vehicles designed to increase productivity and sustainability without compromising capability or cost of ownership. Following the successful introduction of the all-new E-Transit, with 5,000 customer orders received before vehicles rolled off the production line, Ford recently announced the Transit range will include four new all-electric models – the all-new Transit Custom one-tonne van and Tourneo Custom multi-purpose vehicle in 2023, and the smaller, next-generation Transit Courier van and Tourneo Courier multipurpose vehicle in 2024.
Half of all Ford commercial vehicles sold in Europe are converted to suit customers' specific needs. The Ford Pro Special Vehicles team's mission is to understand and meet those requirements by delivering customised conversion products and solutions to drive their productivity. The Special Vehicles team's in-house engineering expertise delivers a range of specialist donor vehicle products that form the basis of the converted vehicle, as well as high-performance component upgrades, auxiliary battery and fuel systems, and preparation packs for features including beacon lights and trailer electrics on both ICE and EV platforms.
In addition, customers' conversion requirements are further supported by a network of 200 convertors as part of the Qualified Vehicle Modifier (QVM) program. These conversion partners offer expertise and dedicated solutions across the conversion spectrum, from a simple racking fit-out for one van to a national fleet of refrigerated delivery vehicles.
The Special Vehicles team is now expanding its offering to customers and convertors through a range of unique services to further drive their operational and business productivity. This includes a range of digital upfit solutions to integrate third-party systems into the in-vehicle touchscreen, offering an improved user experience and removing the need to add extra control panels in the cab, as well as homologation and technical support to improve the efficiency of the conversion process.
Alerts and actions via Ford Pro Software
Time is money, and Ford Pro customer research found that operators desire a single, integrated solution linking all aspects of fleet management for maximum efficiency, rather than a patchwork of individual service providers requiring resources and time to manage.
Ford Pro Software provides a connected digital ecosystem that uses live data to integrate vehicles, telematics, charging and servicing into powerful, user-friendly, productivity-boosting platforms. This integrated approach boosts the value of each Ford Pro solution for customers.
Fleets can benefit from powerful Ford Pro Telematics 4 software to optimise management of their Ford connected commercial vehicles. This software turns Ford-grade vehicle data into useful insights and alerts designed to simplify fleet management, including real-time vehicle location, health alerts, and driver monitoring to support compliance and training.
Fleets switching to all-electric commercial vehicles will benefit from the tailored features of Ford Pro ETelematics 4 – complimentary for one year for E-Transit customers – that uses live data to help maximise fleet productivity, as well as delivering features to support effective and intuitive use of Ford Pro Charging. These include current charging status, vehicle-specific state of charge, and remaining range 5 with customisable Low Range alert thresholds. The system can also set ETransit's battery and cab to be warmed or cooled before a shift with Scheduled PreConditioning to save time and conserve battery energy for optimum range.
Ford Pro Telematics' multi-make functionality allows fleets to manage their Ford and non-Ford vehicles using a plug-in device connected to the non-Ford vehicles.
Ford Pro Software also benefits leasing companies and large fleets with proprietary and existing telematics solutions. Ford Data Services provides them with secure, Ford-grade vehicle data via the Transportation Mobility Cloud to deliver the insights they need for optimum management.
Owner-operators and managers of fleets of five vehicles or fewer can benefit from the complimentary FordPass Pro 6 smartphone app, which is designed to help businesses without full-time fleet managers get the best from their vehicles.
Full-service support with Ford Pro Charging
To help smooth the transition to electric vehicles, Ford Pro Charging offers a fully integrated, business-focused charging system for fleets – able to define the most effective charging strategies and implement future-proof solutions for European businesses.
Every depot is different, so specialist charging consultants in key markets will work with customers to help them identify the optimum charging solution for their circumstances. Ford Pro Charging offers an unmatched service comprising hardware installation and management software that seamlessly works with the all-electric E-Transit. Built-in connectivity enables the system to detect potential issues before customers are even aware of them, and resolve these with minimal disruption to operation.
To support fleets whose drivers take their work vehicle home, Ford Pro Charging also simplifies home wallbox installation and administration. And while most operators will only use public charging as a last resort to recharge their vehicles while at work, Ford Pro Charging also provides access to over 300,000 chargers and centralised billing for ease and flexibility.
Ford Pro Service accelerates uptime
Downtime can keep fleet managers up at night; it is the thirdhighest cost to fleets after fuel and depreciation. Ford Pro Service is a critical element of the Ford Pro ecosystem, delivering maximum uptime by linking connected vehicle data and an unparalleled dealer network to help keep customers moving.
The European support network includes 800 Transit Centre workshops – the largest dedicated commercial vehicle network of any brand. Ford Pro is also ready for the electric era, with 1,500 EV-certified dealers across Europe, and over 4,500 Authorised Repairers that all have ETransit service capability.
Ford Pro's customer-focused initiatives include a fleet of Mobile Service vans that deliver servicing at a time and location convenient for businesses to significantly reduce their downtime. Mobile Service already operates in the UK, is currently launching throughout Germany, and will also roll out to support customers in other markets. Mobile Service vans can deliver 70 per cent of service and repair work – including for other brands' vehicles – maximising convenience and productivity, and removing the downtime and cost of taking fleet vehicles to workshops.
Ford Pro Service's FORDLiive connected uptime system also promises to transform the productivity of commercial vehicle customers. This key element in Ford Pro's always-on relationship with customers uses real-time vehicle data to connect customers and vehicles with dealers and Ford Pro expertise, delivering fewer breakdowns, fewer time-consuming trips to dealers and faster workshop repairs.
Since its launch in March 2021, FORDLiive has enabled almost 125,000 days of additional vehicle availability across Europe in its push to deliver 100 per cent operating uptime, and Ford Pro projections show that FORDLiive can reduce fleet downtime by up to 60 per cent. 7
Over 620,000 Ford connected commercial vehicles are already in operation across Europe; customers can access the FORDLiive service free-of-charge by activating their vehicles' FordPass Connect modem 8 and enrolling in a Ford Pro Software package 4, 6
In addition to delivering vehicle health alerts directly to customers via Ford Pro software, the FORDLiive system also enables Transit Centre workshops to use customer vehicle data to reduce turnaround times via faster diagnosis, proactive parts ordering, and scheduling support to increase workshop bay availability. 9
Over 100 FORDLiive Uptime Agents working from dedicated uptime centres in Germany, Spain and the UK can help to proactively manage maintenance cases and respond to emerging issues. Further centres in Hungary and Sweden will open later this year.
Streamline your administration with Ford Pro Financing
Ford Pro's integrated offering of vehicles, products and services will be available to finance through the upcoming Ford Pro FinSimple – a single transparent, flexible financing plan for small and medium vehicle fleets that will enable commercial customers to concentrate on running a successful business.
Products and services will include the purchase and lease financing of commercial vehicles with combined billing, commercial lines of credit, online account management and the option to work with a finance expert. FinSimple also covers any related financing, like converting vehicles to a business' specific needs and end-to-end financing to support fleet electrification, including Ford Pro Charging solutions. The service will offer a one-stop financing solution for commercial customers across Europe, with products, services and launch dates varying by market.
Ford Fleet Management is an important new service enabling access to Ford Pro's full range of integrated solutions for customers who desire a one-stop solution, delivered by Ford in partnership with ALD Automotive, a leading global fleet and funding management provider. Ford Fleet Management customers benefit from dedicated account managers, a tailored uptime service that integrate with Ford Pro Service products, and consultancy to help find, fund and effectively operate the best solutions for their business. The service is already available in France and the UK, with a planned roll-out to cover other major markets.
# # #
1 Austria, Belgium, Britain, Czech Republic, Denmark, Finland, France, Germany, Greece, Hungary, Ireland, Italy, Netherlands, Norway, Poland, Portugal, Spain, Romania, Sweden, Switzerland, Turkey, UK.
2 Based on "Case Study: Olathe Ford CV Dealership Fleet Management TCO Model" KPMG, Dec. 10, 2021
3 Based on IHS Markit New Registrations data CY2014-CYE 2021, which is compiled from government and other sources and captures 95 per cent of global new vehicle volumes in more than 80 countries as reported in February 2022. Transit family-based volumes of vans, wagons, chassis cabs and cutaways include Ford Transit, Transit Custom. Excludes Transit Connect and Transit Courier.
4 Ford Pro Telematics and Ford Pro E-Telematics are available on a subscription basis, subject to agreement to Ford Smart Mobility terms and conditions, and provides a comprehensive suite of features in addition to vehicle health including location and mapping, driving behaviour, fuel/energy usage, multi-make capabilities and a companion app for drivers to interface with fleet managers. Fleet customers can contact the Ford Commercial Solutions Command Centre at [email protected] for information about these Ford Telematics products. Data availability subject to data connectivity and access to vehicle data.
5 Targeted range and charge time based on manufacturer tested values and calculation according to the WLTP drive cycle. Actual range varies with conditions such as external elements, driving behaviours, vehicle maintenance, lithium-ion battery age and state of health.
The declared WLTP fuel/energy consumptions, CO2-emissions and electric range are determined according to the technical requirements and specifications of the European Regulations (EC) 715/2007 and (EU) 2017/1151 as last amended. The applied standard test procedures enable comparison between different vehicle types and different manufacturers.
6 The FordPass Pro smartphone app, FordPass Connect and complimentary connected services are required for remote features (see FordPass terms for details). Connected services and features depend network availability. Evolving technology/cellular networks/vehicle capability may limit functionality and prevent operation of connected features. FordPass Pro smartphone app connectivity requires FordPass Connect to be activated in the vehicle. FordPass Pro app compatible with Apple and Android smartphones and is available from the Apple App Store and Google Play store in 20 markets in Europe
7 Estimated reduction per year based on (1) customer promptly responding to vehicle health alerts in FordPass Pro/Ford Telematics (to help avoid roadside assistance call-outs) and (2) anticipated time saved using Ford Transit Centres for maintenance and repair (including Express Services). Actual reduction may depend on individual circumstances (e.g. driving style and vehicle use).
8 FordPass Connect, the FordPass App, and complimentary Connected Service are required for remote features (see FordPass Terms for details). Connected service and features depend on compatible network availability. Evolving technology/cellular networks/vehicle capability may limit functionality and prevent operation of connected features. Connected service excludes Wi-Fi hotspot.
9 Connected vehicle data is only accessed by dealers following contact by the customer and specifically for the purposes of providing advice to customers on vehicle servicing and to enable the dealer to pre-diagnose issues prior the vehicle being presented to the workshop. Availability may depend on market and dealership participation.
News