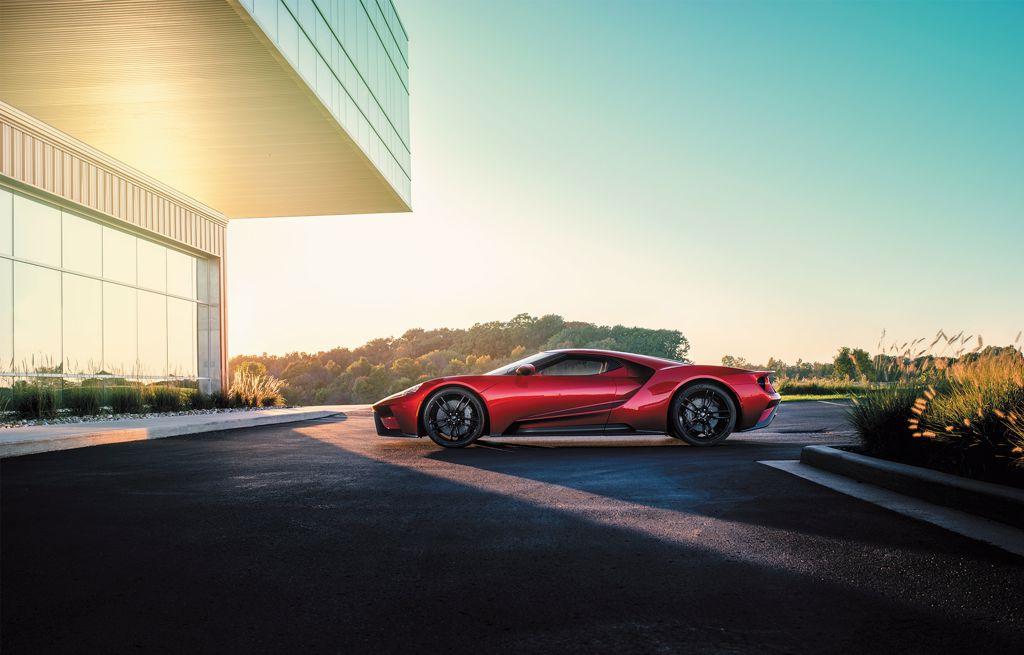 Ford Redefining Innovation in Aerodynamics
All-New Ford GT Carbon Fiber
New Standards in Aerodynamics, EcoBoost and Light-weighting
All-new Ford GT supercar sets new standards for Ford innovation through performance with advances in light-weighting, aerodynamics and ultra-efficient EcoBoost® engine.

Ford GT features the most powerful EcoBoost production engine ever – a new twin-turbocharged Ford EcoBoost V6 producing more than 600 horsepower.

Ultra-high-performance supercar is Ford's most extreme offering, infused with race-proven technology engineered to keep company with exotics when it goes into production in 2016.
Detroit, Jan. 12, 2015
Ford today unveiled the all-new GT, an ultra-high-performance supercar that serves as a technology showcase for top EcoBoost® performance, aerodynamics and lightweight carbon fiber construction.

The GT is one of more than 12 new Ford Performance vehicles coming by 2020. It joins Focus RS, F-150 Raptor, Shelby GT350 and Shelby GT350R in the growing Ford Performance lineup.

Beginning production late next year, the GT hits the road in select global markets to celebrate the 50th anniversary of Ford GT race cars placing 1-2-3 at the 1966 24 Hours of Le Mans.

"As we at Ford drive innovation into every part of our business, it's worth remembering that our first innovation as a company was not in a laboratory, but on the racetrack," said Mark Fields, Ford president and chief executive officer, referring to Henry Ford's win of a 1901 car race that inspired financial backers to invest in his company. "We are passionate about innovation through performance and creating vehicles that make people's hearts pound."

The all-new GT supercar features rear-wheel drive, a mid-mounted engine, and a sleek, aerodynamic, two-door coupe body shell. It is propelled by the most powerful EcoBoost production engine ever – a next-generation twin-turbocharged EcoBoost V6 producing more than 600 horsepower.

The GT makes extensive use of lightweight materials, including carbon fibre and aluminium – enabling outstanding acceleration and handling with improved efficiency.

Ford's commitment to and capability in delivering technologies typically offered only in elite vehicles is evident in the GT. These include advanced active aerodynamics, such as a deployable rear spoiler, and a host of material and technology innovations to help better serve the driver, such as SYNC® 3 – the latest version of Ford's advanced connectivity system.

"The GT is the ultimate execution of an enthusiast supercar," said Raj Nair, Ford group vice president, Global Product Development. "GT includes innovations and technologies that can be applied broadly across Ford's future product portfolio – another proof point that Ford continues raising the performance bar while ultimately improving vehicles for all of our customers."
Discover more about Ford's Innovative Technology.
News